Our Story
How We Met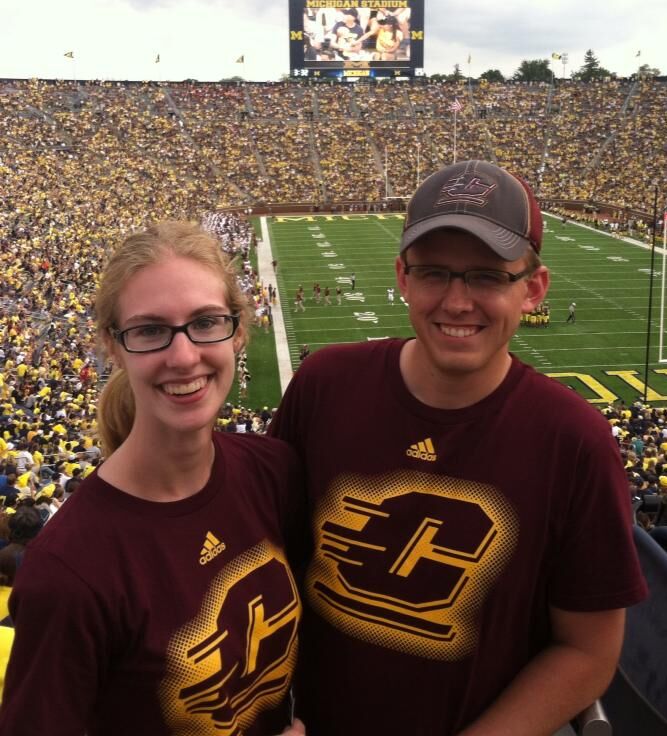 Casey and Travis met at Central Michigan University in the Science and Technology Residential College in Woldt Hall. Travis was a sophomore and lived across the hall from Casey in Room 203.
Casey had just moved in to her new CMU home in Room 204. Casey's roommate and now bridesmaid Chelsea decided to call Travis over (since they knew each other already) and introduce him to their new roommate.
After the introduction, Casey turned to Chelsea and said one thing: "I love his ears!"
All of the residents of Rooms 203 and 204 quickly became friends. They all went to dinner together nearly every night and then procrastinated homework with endless rounds of Mario Kart on the Wii. Casey and Travis got to know each other over the next months and started dating in March 2012.
The rest fell into place as both Casey and Travis finished their degrees from CMU and got wonderful jobs in the Lansing, Michigan region!
The Proposal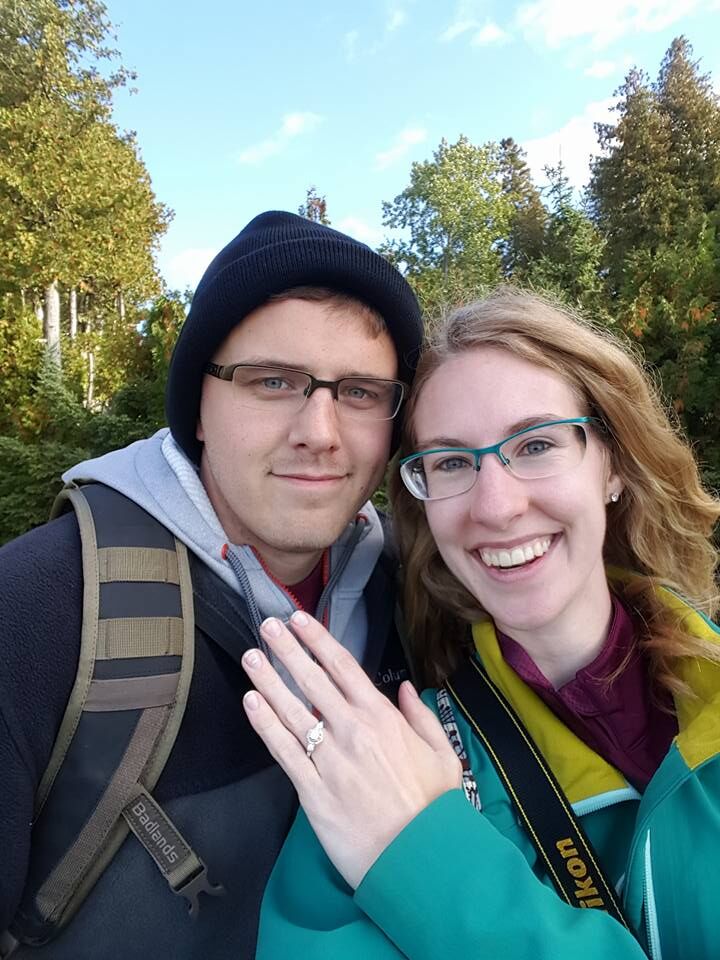 Friday, October 21, 2016 Casey and Travis take off for a weekend of fall adventures and hiking on Mackinac Island for CMU Alumni Weekend! They make it to the 5:00 ferry from St. Ignace and arrive at the Island House Hotel, welcomed by CMU colors!

Travis had mentioned going out to Sunset Rock (a perch on the island where you can get a beautiful panoramic view of the Mackinac Bridge at sunset), so Casey packed all of her photography equipment so she can capture the moment that Friday night.
They rent a couple of single-speed bikes from the rental booth and take off on the main road of the island. It was almost sunset so they were moving! Casey had put in the location of Sunset Rock onto her phone and checked their progress when they took a break. They had biked right past it's location!!
With both of them being sweaty and thighs burning from biking so quickly, they decide to pull over to the side of the Lake Huron shore where they can see the bridge and the sunset. Casey gets her camera set up and gets busy taking pictures.
As she is snapping away, Travis is standing behind her and pops the question, ring in hand!
After freaking out and hugging and kissing (ok, maybe some ugly crying from Casey), she says yes and can't stop staring at the beautiful new bauble on her left hand!!
So CMU Alumni Weekend quickly turned into Engagement Weekend as the couple celebrated and enjoyed the weekend adventuring on gorgeous Mackinac Island!
Oh, and they did eventually find Sunset Rock on Saturday evening!
The Wedding
Saturday, October 13, 2018
12:00 PM
Attire: Dress
Ceremony
St Mary Cathedral
219 Seymour Ave, Lansing, MI 48933
Reception
Michigan Wildlife Conservancy - Bengel Wildlife Center
6380 Drumheller Rd, Bath Twp, MI 48808
Other Events
Wedding Weekend Welcome!
Friday, October 12, 2018
9:00 PM
Hyatt Place Lansing/Eastwood Towne Center
2401 Showtime Dr, Lansing, MI 48912
Come say hi to family and friends before the big day! Casey and Travis will be hanging out in the Hyatt lounge for a couple hours the night before and would love to see you! Cocktails available for purchase.
Bus Service
Dean Trailways is providing a 38-passenger bus for our use the evening of the wedding.
Departure from Hyatt Place Lansing - 3:00pm, 3:30pm, and 4:00pm to the reception.
Return to Hyatt - 9:00pm, 10:00pm, and 11:00pm.
Please take advantage of this service if you plan to have a few celebratory drinks with dinner! If you drive or carpool and want to take the bus back, you are welcome to leave you vehicle and pick it up at the Bengel Wildlife Center the next day.
Wedding Party
Amy Ten Brink - Maid of Honor
The Bride's sister and right hand woman!
Haley Speer - Matron of Honor
The best friend of the Bride, these two have known each other since 1st grade!
Chelsea Robinson - Bridesmaid
One of the Bride's first college friends and roommate, along with travel companion extraordinaire!
Austin Crimmins - Best Man
The Groom's brother and right hand man!
Derek Hoppert - Groomsman
The Groom's cousin and one he can always count on to join him hunting!
Joel Oerther - Groomsman
One of the Groom's closest friends and the guy who can rope him into an Xbox game every time!